BUCKET LIST: Ice Climbing in Iceland
Welcome back to the Bucket List blog section with VoyEdge RX! This week, I want to detail something that is BIG on my bucket list, and that is ICE CLIMBING in Iceland. We have recently added this to our Iceland group tours in the summer, and last year when we first released it, it was easily the #1 rated activity on the trip. Shoutout to you, folks, Iceland 2018 crew who got to to do this before anyone else…
As it is, Iceland has been a HOT topic and destination for nearly everyone in the world. Recent influx of tourism, after the economic crash of 2008-2011, has made Iceland a premiere destination for adventure. With over nearly TWO MILLION people traveling to Iceland in 2018 (docs here for more tourism info), there has never been a better time to go to Iceland. The economy is strong, and for being a country that is still under 100 years old (Iceland was founded in 1944), despite being discovered by Vikings over a thousand years ago, boasts a surging infrastructure and a major emphasis on showcasing all the natural beauty and wonders of Iceland. Which means, thousands of available tours and options for you to choose from.
Now, when it comes to ice climbing in Iceland, there are most definitely a few things you should know. Climbing on the glacier of Vatnajökull is no easy feat. That is why you must go with a guide (we use GuideToIceland) on our tours, and they have done a fantastic job at preparing our group for such an excursion. Please be advised, this is NOT something you can run out and do yourself. You must go with a tour operator due to the dangerous aspects of such an activity.
As it is, your ice climbing adventure begins when you are picked up at the hotel you're staying at in Iceland. For our group tours, we stay at City Park Hotel, and do our ice climbing tour after we visit the waterfalls of Seljalandsfoss & Skógafoss. Shortly thereafter, we will head to Reynisfjara, or the black sand beach before getting our safety briefing for ice climbing on the way to the Vatnajökull glacier. When you arrive at the foot of the glacier, you'll first walk and hike up to the loading spot, where another guide will hand you crampons, ice picks and harness. You'll continue walking with the help of the guides to the entrance point of ice climbing.
Keeping in mind that glaciers are powerful natural features in constant formation, your guides will inform you of where to step, what to avoid, and what to expect as you traverse past crevasses and sinkholes on top of the retreating glacier. As you continue to hike, your knowledgeable guides will inform you of some of the history and geology of these natural frozen marvels as you begin to see the magnificent landscapes of the surrounding mountains, included Iceland's highest summit of Hvannadalshnúkur.
Now, once you reach the peak of the glacier where ice climbing occurs, it is time for you to strap on your crampons and suit up. While no experience is necessary, there are a myriad of difficulties along the ice walls where you can climb. Your guides will help you find the sturdiest locations for ice climbing and will allow you to test your skills first going horizontally, and then vertically down a 100-foot ice wall. All of this will occur as you are able to soak in the surrounding views of Iceland's unique landscape.
Everyone will get the chance to climb, and after roughly three hours, and several launches into the ice wall, you'll be tired, inspired and full of exhilaration with every swing of the ice axe. It will be up to you to observe, belay and encourage others while they traverse up and down the glacier with the use of ropes. See some of the images from last year's ice climbing excursion down below.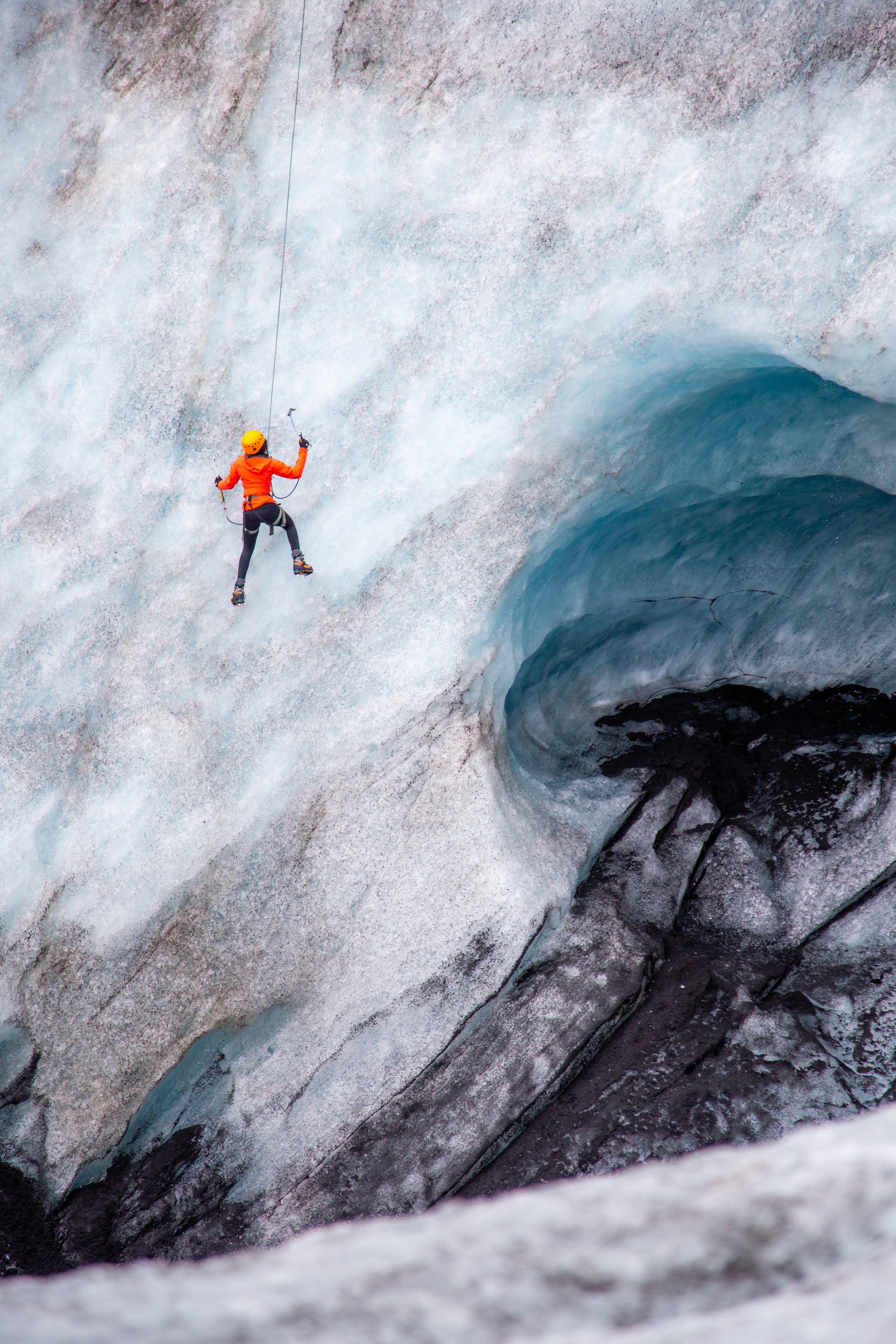 After 2-3 hours on the glacier, you'll head back down to the bus and will depart home to Reykjavik! With the 10-12 hour Southern Coast tour coming to a close, hopefully you'll be feeling tired and inspired while crossing off another thing on the ol' bucket list.
Ready to do this for real? See our upcoming Iceland tours on our Trip Calendar here
Have you done this activity? Let us know how it was down in the comments section below!
Have another bucket list item we should write about? Submit a guest blog, or tip to: staff@voyedgerx.com