Crushing it at CrossFit Box V in Split, Croatia
Love to Travel, Love to CrossFit
Guest blog post by: WOD Abroad
SPLENDID AT CROSSFIT BOX V, SPLIT
Preparing my holiday to Split, Croatia, I emailed Crossfit Box V to see if I could do a drop-in. Trainer Ivan Račić quickly replied and even attached some helpful street pics with directions in his email to get me to the right address. No doubt that this drop-in was gonna be good!
TAKING IT EASY AT SPLIT
Split is a beautiful historic town on the southern coast of Croatia with approximately 200.000 inhabitants. This city hosts 3 crossfit boxes, including Crossfit Box V, which was founded 3 years ago. Staying close to the historical city centre I was up for a 40 min walk to get to the box, but since the first wod starts at 8.30h every day, even this felt like a holiday. And having the directions from Ivan, it was easy to find the box underneath a parking lot.
PRACTISING CROATIAN
I was warmly welcomed by trainer Anita in a nice industrial looking box. A quick glance at the place shows that it's spacious and well-equipped. Anita was very nice to explain the whole wod in English to me before the others of the group joined in. I'm very glad she did, since she started explaining it in Croatian afterwards and let say it was pretty incomprehensible – for me at least.
So we started with the warming up (or zagrijavanje in Croatian):
200m
10 Air Squat
10 Down Ups
10 Ring Row
Waiters Walk 60m L/ 60m D
Bar Hang 30s
Hip Opener 30s/30s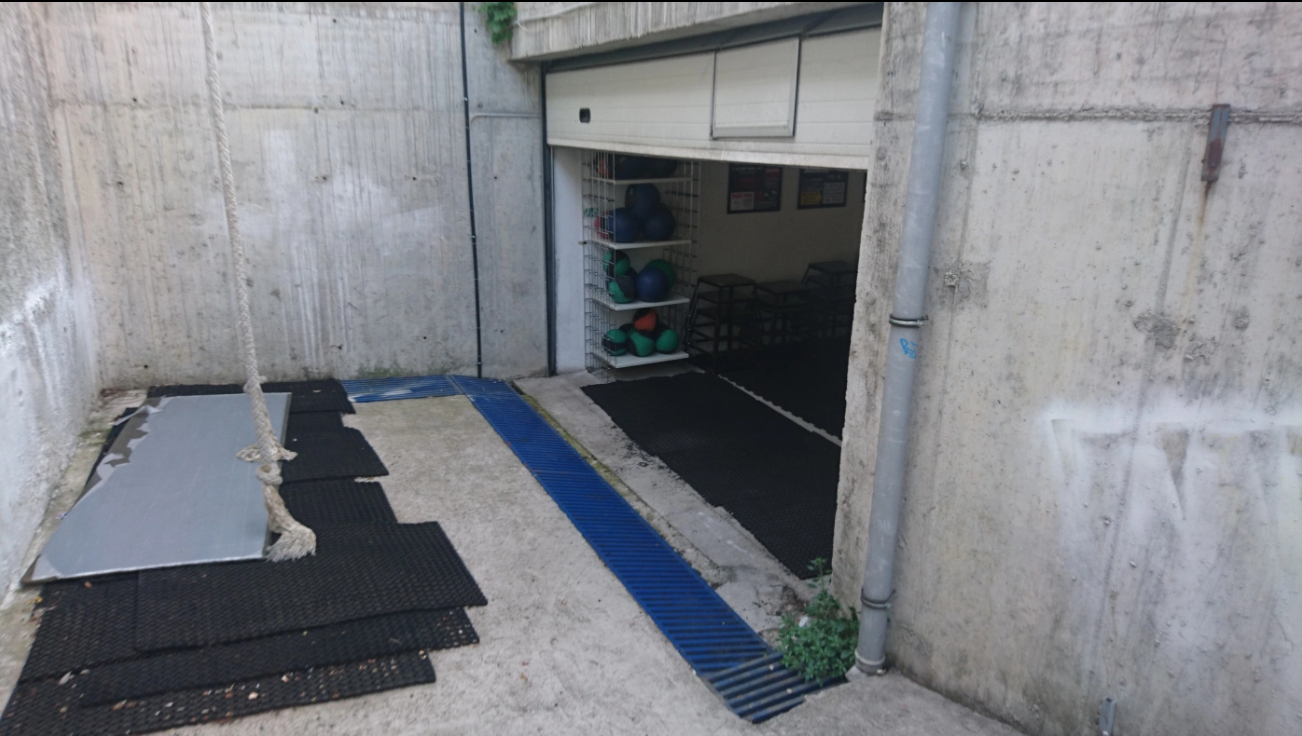 THE WOD
With a group 12 people (7 guys, 5 girls) we then started the wod which focussed on gymnastics, holds and hangs, and finished with a partner wod:
A.
RX EMOM 9min
1.min – Elevated Ring Row 10
2.min – Wall Walk + HS Hold 45s
3.min – Hollow Hold 45s
B.
3min Ring support hold
3 min Bottom of a dip ring hold
3min False grip ring pull up hang
Partner WOD (team of 2) – AMRAP 20min
50 DU or 200m
40 WB / Air Squat
30 RKB Swing
20 Burpees
10 Pull Ups/ Ring Row
Doing a drop-in and having a partner wod scheduled, might get a little uncomfortable since language can be an issue and you don't know anybody from the group. But that was definitely not an issue to Ivana and namesake Tamara. They adopted me in their group, so the three of us partnered up and nailed our wod!
REST DAY
Talking to fellow crossfitter Tamara, I asked her about the schedule and why there isn't for instance a wod or open gym on Sundays (something I haven't seen before in the other boxes that I visited). She explained that Croatia is from origin quite religious (Catholic) so Sundays are seen as a restday and most people spend it with family. Or they go to Marjan Hill to bicycle, run or have a coffee at Teraca Vidilica to enjoy the stunning view. Well, that explained a lot!
HVALA!
Besides doing a great wod, I definitely met some very nice people at Crossfit Box V. Here's just one big happy hvala (thank you) to Ivan and Anita for having me, Ivana and Tamara for the wod and the ride back to town! And after a last group picture I was totally ready for a shower and a big burger at Toto's Burger Bar (recommended by local Tamara).
NICE TO KNOW
For a drop-in at Crossfit Box V you pay 100 kuna, or 13 euro's.
Wod's are scheduled during weekdays at 8.30-9.30 and from 16-21. Saturday it's open gym from 11-13.
The workout of the day is published every day at their website
You can find Crossfit Box V at 114. Brigade 12, 21000 Split
Become a guest blogger on the VoyEdge RX blog by emailing us at: staff@voyedgerx.com
share this post with your community
see voyedge rx trips