Where To Find The Best Panini in Florence
Ahhh, Italy.....the culture, the cities, the sights, the people, vibe and of course, the food...
If you know anything about the food in Italy. You know it is THE staple of the country and Italians from the deep south, to the very north, take great pride in their cuisine. And whether you are sitting down for a four course meal, or simply grabbing something to go, it will always behoove you to know where the very best of each are in every city you're traveling to.
Which brings us, of course, to the best panini place in Florence......my one caveat here is that you truly cannot go wrong for eating in Florence, but, if you've come to this blog simply looking for the best place in Florence to get a panini, let me answer that question for you right now.
The best place for a panini is: All'Antico Vinaio
Without a doubt, this is the #1 place to eat in Florence and can't be beat. The lines out the door and down the street will lead you right to it, but in case you need an actual address of the place, here it is:
ALL'ANTICO VINAIO
Via dei Neri 74 R, 50122, Florence, Italy
+39 055 238 27 23
They have a phone number you can call, but why would you? You are there to get a FAT panini and a plethora of delicious sliced tuscan meats nestled in-between some homemade bread with cheese, pesto and a slew of other random sun-grown vegetables...do not call.
Here are some tips for ordering, too. Know what you want before they ask. These guys are busy all-day, everyday, so do yourself a favor and go in with a plan. If it's your first time - just order something off the wall. Do not ask for the chef special, and grab some pesto or salsa piccante on your sandwich, too.
The TripAdvisor page also boasts over 6,000 photos of possible sandwich combinations and their menu, so I would definitely peruse through that before you go.
Oh, and in terms of waiting in line? You're going to wait in line and I would HIGHLY suggest getting there as they open (usually at 11 am), but you know - Italians....who knows what time they will actually open.
If you show up any other time than when they open....boy, good luck. You'll be waiting for at least 30-45 minutes. And with a dedicated four sandwich-makers at each location (it's a dual restaurant across the street from itself) you're going to see two long lines on each side of the street when you arrive.
Like I said, go in with a plan. Go in hungry, and do yourself a favor and order a glass of wine, too for only TWO EURO!
And yes, you can pour it all the way to the top, too.
Enjoy it, and remember, get there early and get it to go!
Got any other questions? Email me at: cam@voyedgerx.com
Have another favorite panini place I missed in Florence? Comment below and let us know what your favorite place is, or what you think of All'Antico Vinaio!
photos of: All'Antico Vinaio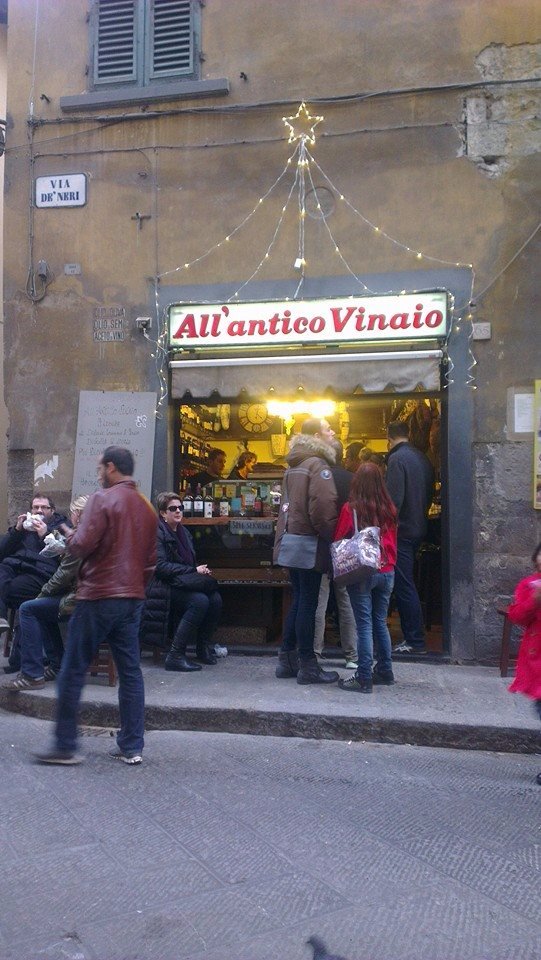 Have another travel tip you want to share with us?
Leave us a comment down below!
Follow us on social