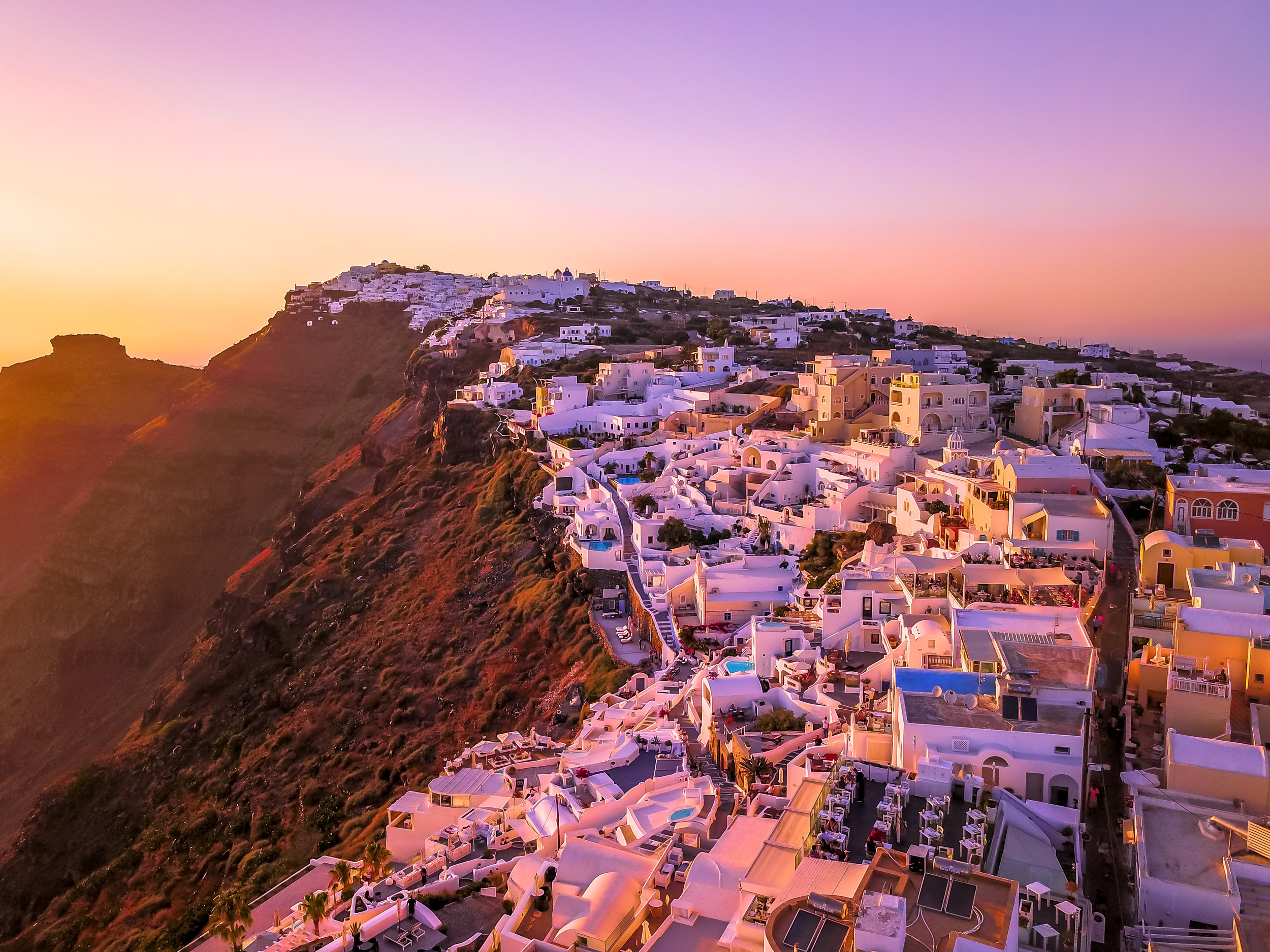 10 days, 9 nights through athens, delphi, meteora, mykonos & santorini
important info
Tour dates: August 2-11, 2019
Current price: $2,999
ONE spot left!
+ TOUR OVERVIEW
This Greece tour whisks you through the cultural mecca and cradle of civilization in Athens, and through the majestic mountains and ancient archaeological sites of Thermoplyae, the ruins of the Oracle of Delphi, the sky-high monasteries of Meteroa, Trikala and beyond.
From touring these ancient sites, to sailing to the islands of Mykonos & Santorini, you can be assured you will see the entire gammut of Greece and all the incredible intricacies it is made of.
Feast your eyes on the world's best sunset in Santorini after hiking from one end of the island to the other and live it up at the clubs and bars in Mykonos all while eating, drinking, lifting, hiking and seeing the BEST parts of Greece.
There's a reason we called this tour the, 'Best of Greece,' and we can't wait for you to see these incredible destinations. Get pumped, pack some sunscreen and let's head to Athens and get ready to OPA!
+ WHAT IS INCLUDED
Led and guided by multiple VRX staff
10 day, 9 night adventure through Northern Greece and the Aegean Islands
Pick up and drop off at airport at the beginning and end of the trip
Five group dinners and breakfast everyday on the tour
All gym drop-ins and travel workouts
All ground transportation and ferries to and from each destination
Entrance to The Acropolis, Meteora and Delphi Monasteries
ATVing in Mykonos
Boat tour in Mykonos
Half day wine tour in Santorini
Multiple hikes throughout the tour
A professional photographer, plus access to all photos after the tour at no extra cost
And more!
+ NOT INCLUDED
*Flight to and from Athens, Greece Airport (Airport code: AIA). Once you book, we will work with you on getting the best deals (If you would prefer, we can book flights for you. This will be an additional fee).
Lunches and some dinners
Drinks on the nights out
RT flight to and from Athens on the selected dates below
Any optional activities not included on the days above (please see the 'What's Included' section above the day by day itinerary)
Travelers Insurance
+ WHERE YOU WILL GO
Athens
Thermoplyae
The Ruins of Delphi
Meteora
Trikala
Mykonos
Santorini
Back to Athens
And more
+ ACCOMMODATIONS
All accommodations are three-star hotels or above and booked as double occupancy rooms. If you are a solo traveler booking, you will be placed in a room with someone of the same gender and similar age range.
If you are a couple or booking as friends, you will automatically be placed in the same room together for the duration of the trip.
If you would like PRIVATE ACCOMMODATIONS please select that option during checkout and $150 extra per night will be added to your invoice. Please note, private accommodations may not be available during the entire duration of this tour.
If you are a group, please specify under the 'notes' section of your booking who you would like to room with who.
Hotel names cannot be given out until after you have signed up for this tour. All hotels are centrally located to the activities and excursions on this trip.
+ FLIGHTS
You will want to fly IN to Athens (ATH) anytime on August 2, 2019
You will want to fly OUT of Athens, Greece (ATH) anytime on August 11, 2019
You may choose to arrive early or stay late, if you wish. Please note that you will be responsible for booking your own transportation, activities, and meals if you are arriving early or staying late. You have the option of having VRX book you a hotel room and adding the cost to your invoice for a small fee.
+ FITNESS & ACTIVITIES
Daily hikes, workouts and CrossFit box drop-ins are part of this tour and included in the price. You do NOT need to be a CrossFit athlete in order to sign-up, although daily workouts and fitness options are available for you to participate in. We welcome all ages, abilities, fitness levels and only require you to be willing to step outside your comfort zone and try new things while on this tour.
+ MORE INFO & CUSTOM TOURS
This trip requires a minimum of 10 people to sign-up in order for it to be led as a 'group tour' on behalf of VoyEdge RX. If we do not reach the minimum number of participants at least 150 days out from the tour, you will have the option of either getting a full refund, the ability to transfer to another tour at no charge or having us book this tour as a private tour for you. Meaning, you can still do this tour as a solo participant while VRX books everything for you and 'digitally' guides you through these destinations with a custom, made-for-you itinerary with a PDF and daily check-ins with our team.
Love this tour, but the dates do not work for you? Go on it anytime of year with you and your loved ones by creating a custom tour with VoyEdge RX. We plan it all out, book everything, and you go on the adventure of a lifetime. For more information, please reach out to us at: staff@voyedgerx.com
+ PRICING OPTIONS & DISCOUNTS
VoyEdge RX offers two pricing methods: Early Bird Rate and Regular Rate. Early bird rates are first come, first serve and are usually limited to the first five spots of any tour. Regular bookings are at the regular rate price of the trip. If you have a promo code, you may use it at any time. Discounts may not be combined.
Group leaders, please email us at: staff@voyedgerx.com before booking.
Group discounts are as follows
Group of 5-9 = 4% off per person
Group of 10+ = 7% off per person
Military, First Responders, & Veterans = 4% off your invoice
Repeat customer = 3% off your invoice
Refer a friend = $35 off your invoice per person after you sign up.
Group leaders must contact us first to receive the percentage discount
+ WHAT HAPPENS AFTER I SIGN UP?
In order to sign up, you must put down a $300 deposit (that goes towards the overall price of your trip). From there, VoyEdge RX will send you an invoice for the remaining balance for you to make payments as you wish. All invoices must be paid off at least 90 days before the trip kicks off, otherwise a 10% fee is applied.
After you sign up, you will also enjoy monthly trip updates about the tour from our team, help with flights, and other insider travel tips from our community and fellow travelers.
Please see the bottom of this page for information on group discounts, referral rates, and other information.
Any questions? Email us at: staff@voyedgerx.com Or call to book: 617.866.9573
Please see our FAQ's and Terms & Conditions for our cancellation policy, refunds and more
BOOK HERE
1 of 10 spots left!
Secure your spot with a $300 deposit
august 2nd, 2019 - welcome to the cradle of civilization
Welcome to the cradle of civilization! Athens, Greece is a historic place. When you look upon Athens, you look upon the history of the western world. When you walk its streets and summit the Acropolis, you get the best and most intimate view of this city. VoyEdge RX will be on-site at the airport to pick you up and welcome you into this amazing city. After your arrival and check-in, we will venture out in this joyful place and introduce you to the city via a walking tour. After the tour, we will provide an optional workout before we all get together and have our first of many group dinners. Get some rest, shower up, and get ready for an epic 10 days! You're in GREECE!
Avg. temp in Athens in August = 90 F / 32 C
ancient sites, eat, workout & explore
august 3rd, 2019 - tour the ancient city of athens
Wake up this morning to your first full day in Greece. Enjoy a local drop-in in the morning, and take it as an opportunity to get to know the people, and what makes their city so special. After working up a sweat in the morning, we'll wander the streets of Athens on a tour of the city, taking in its ancient roots. Later in the day we'll find ourselves winding our way atop the Acropolis. Bear witness to the iconic Parthenon, and look upon the city as Pericles once did over a millennia ago. We will also explore the Olympic Stadium, Temple of Zeus, Hadrian's Arch, and the historic Plaka neighborhood. From there, you'll have the afternoon and night to explore on your own!
Avg. temp in Athens in August = 90 F / 32 C
apollo's sanctuary & the ruins of delphi
august 4th, 2019 - live through the mythology above the clouds
Day 3 will kick off with an optional early morning workout, as well as breakfast, before we depart to Delphi. Along with Athens, this is one of Greece's most historic lands. To the Greeks, Delphi was once the center of the world. Legend has it, Zeus let loose two eagles, one from the shores of the east and one from the far west. The point at which they crossed happened to be Delphi, and the rest is ancient Greek history. Here, in this remarkable place, we will explore the ancient ruins, and the stories of the oracles. Held in the highest regard, the Oracles were seen as conduits to the gods, the voice of the divine. At the heart of Delphi stands the Temple of Apollo, and within it, the shrine of the of Oracle: The most important religious icon in all of ancient Greece. Depart for accommodations in Trikala.
Avg. temp in Delphi in August = 84 F / 28 C
the monasteries of meteora
august 5th, 2019 - welcome to meteora. a dream come true
You'll wake up in Trikala, enjoy a light breakfast, and then head via bus to Meteora Greece, where our mythical adventure continues. Meteora, a UNESCO World Heritage Site, promises both awe and wonder. Looking upon the splendor of these immense monoliths leaves the witness inspired, stirring the soul of all those who have encountered it. Meteora was once the frontier of ancient Greece, home to nymphs and satyrs. Today, it is marked by a collection of medieval monasteries. The singular constant is the draw of this place's natural splendor to look beyond ourselves and believe in a world fantastic. We'll have a hike through the monasteries, but after feel free to explore them, and the cliffs, on your own. This is an amazing place, so do not forget your camera! After sunset, departure back to Athens.
Avg. temp in Meteora in August = 73 F / 23 C
ferry from athens to mykonos
august 6th, 2019 - sail to the legendary island of mykonos
Waking up back in Athens, you'll be able to have an early morning workout, then breakfast before we take a ferry to the island of Mykonos. Mykonos is known as the island of the winds. Only a ferry journey away, Mykonos calls many to its enchanted shores. The party is always on during the high season. A global gathering of wanderers and celebrities, all finding their way to the white sand beaches and white washed neighborhoods. Today we'll check in before spending the night on the town. We will be sure to experience the vibrant nightlife, which has earned global recognition. Trust us, you're going to want to bring your dancing shoes!
Avg. temp in Mykonos in August = 84 F / 29 C
atv tour & sunset boat cruise in mykonos
august 7th, 2019 - live like there's no tomorrow in mykonos
After a lively night, use the morning to wake up at your own pace, but don't miss out on a full day on island. Mykonos offers world class hiking and quite the adventure on ATV. Explore the gorgeous views of the island on an ATV during the day (included in the price), and afterwards be ready for an unforgettable evening boat tour. When the night comes, be sure to explore what you missed the night before. Don't stay out too late...tomorrow we set sail for Santorini!
Avg. temp in Mykonos in August = 84 F / 29 C
ferry from mykonos to santorini
august 8th, 2019 - transfer from mykonos to santorini
Arise from another night in Mykonos, enjoy a light breakfast, optional workout, check out of the hotel, and head for a ferry from Mykonos to the incredible island of Santorini. Santorini has amazing shoreline, but don't spend all your time relaxing on the beach. There is simply too much to see. The iconic caldera will be welcoming us in its embrace. Once off the boat, eat, drink, and explore. This is a place meant to be experienced, and you'll have the perfect opportunity to refuel in the afternoon. Look over the harbor and take it all in with some local wine and the crunch of fresh baked bread. Drink in the sunset and welcome the night. Tomorrow will be full of adventure.
Avg. temp in Athens in August = 84 F / 29 C
august 9th, 2019 - paradise found
Wake up in Santorini! We promise you're not dreaming. Fill the day with exploration. Walk the caldera path and get to know this beautiful isle on a far more intimate level. Hike further to gather an even better view of an already awe inspiring place. Sail, snorkel, or swim in the warm local waters, or just relax. Life moves a little slower here. Someone brilliant once said "Life moves pretty fast. If you don't stop and look around once in awhile, you could miss it." Don't miss simply being in Santorini. We'll set up another drop-in here, have the option to do a hike, a half-day wine tour, or have some free time. Enjoy your last night on the island, it's sure to be unforgettable. A dinner is included and of course, another night out. We're in Greece, after all!
Avg. temp in Santorini in August = 85 F / 29 C
august 10th, 2019 - kiss the island of santorini goodbye
Arise from an incredible day in Santorini and explore the early morning markets before departing on a ferry back to Athens. Once back to Athens, we'll check-in to our accommodations where our adventure began. You'll haven plenty of time to venture out and explore! Feel free to seek out the sites you first marked a few days back. Get to know modern Greece and the people of Athens. Bring home their stories and experience their world. Take the day to lounge and recover, explore missed sights, or return to the landmarks once visited. The Parthenon has called many to its altars over the centuries and it will be sure to call you as well. Tomorrow marks departure day, but there is still the night. Celebrate. Another chapter in a lifetime of adventure.
Avg. temp in Athens in August = 90 F / 32 C
sunrise hike, CF drop-in & depart home
august 11th, 2019 - soak in the last bit of athens before departing home
Day 10 kicks off with an optional workout, breakfast, and free time to explore the markets of Athens before getting ready to head to the airport. The day is truly yours, and VoyEdge RX will pay for your ticket back to the airport, but not before a big hug and best of wishes. On behalf of our team, we'd like to seriously thank you for coming on this epic tour and hope it was beyond memorable! Consider this, "You will never be lovelier than you are now. We will never be here again." Enjoy every second. Life is meant for the living. For the now. Where and when will you live next?
**If you would like to fly out from the Santorini airport - you may opt to stay on the island and fly out on August 10th or 11th instead of heading back to Athens on the night of August 10th.
Avg. temp in Athens in August = 90 F / 32 C